Novelties
Trendy and original jewellery
Discover our latest inspirations via our tailor-made jewellery collections. Fashion follower and gleeful god trend addict; add colour to your good mood, some chic to your favourite look, a little charm to your unique outfit or maybe a dash of femininity to your basic fetishes.
Here's to you
rings
,
clips
,
brooches
,
bracelets, cuffs
,
earrings
,
necklaces, long necklaces and pendants
! You have two options to make you happy or help you to choose that perfect gift: order online while curled up on your sofa. Keep your slippers on; we'll take care of the delivery!  Feeling more courageous? Get on your bikes, scooters or any other contraption with wheels and get yourself ready to shop at one of
our reseller boutiques
so as to make us ecstatic seeing you wear our jewellery, and it's that what we just adore, we love it, we just dig it!
Jewelry designer by passion
Our passion is to conceptualise trendy and divinely offbeat jewellery collections for women, complete with style and joyful originality. Our accessory creations are always art-, colour- and Pop culture-conscious, we have no qualms about restyling Arty icons, things you would see in your everyday or things epitomising any other kitsch and quirky symbol.
So to make this happen, we scribble our ideas, paint, embroider, draw, erase, sculpt, model, colour, cut, sow, assemble and disassemble. In short, we go from high to lows, we laugh, we cry, we get angry to really get the best results. Models are shaped with moods, joys, and sometimes too with pitfalls, but above all, with heart.
Every year, a thousand creations of rings, brooches, earrings, clips, necklaces, pendants and bracelets are designed in our offices. Flash ideas, discussions and more heated discussions, the most beautiful pieces are the only ones that continue the adventure.
Next stop, it's the tasting stage; the jewellery collection is on route to be shown off! We throw on our nicest aprons and dash to meet THE jury: the independent resellers, all of the boutiques who have made us proud to choose and distribute our products and have given us shop window space, cosy behind-the-window displays of jewellery boutiques the world over. This is as much stressful a moment as it is heart racing, it's so exciting!
news
Christmas is coming !
2023-11-17
From November 15, 2023 to January 2, 2024, the jewelry will be delivered in their Christmas outfit.

Offer valid on www.taratatabijoux.com and while stocks last *.
Gift wrapping offered for all jewelry not included in the "Outlet" section.
Read more
All news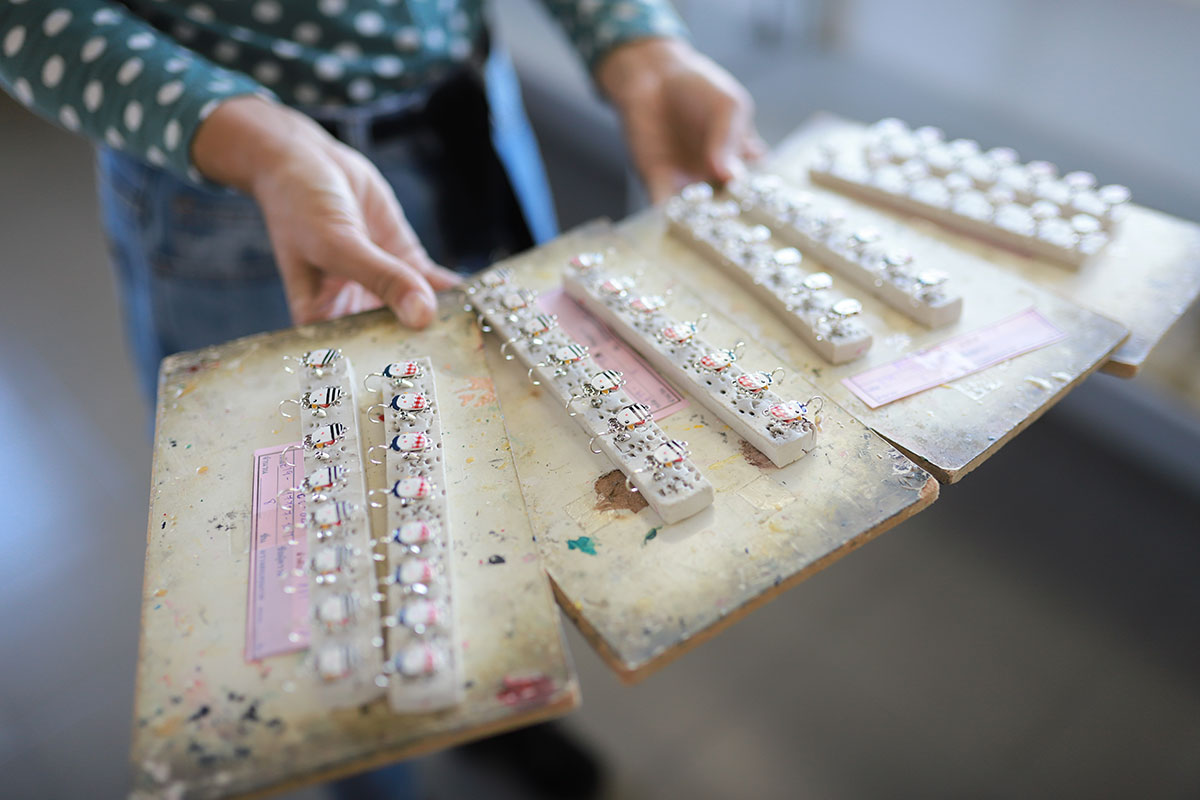 Just like a good kitchen with all its subtleties, you can be guaranteed that everything made is hand-crated by us. There's no 3,000-year business plan, untimely hype, dubious shareholders or any other diddly-squat that could give you the impression that you're just easy prey to an impersonal and dehumanised marketing strategy. No, no, no, we are a close-knit company with a human touch, a brand that stands out on its own and is driven by passion. Get behind the scenes and you'll discover a bunch of people, full of humanity, a superb team, which is funny, serious, melancholic, angry, shy, brave, patient, grumpy. There are those who prefer their before-meal aperitif to their dessert, those who like to start early and finish late, those who like to start late and finish early and those who simply just like to be on time. And that's it. So in short, these are all the people that make up Taratata and that is how it all starts.
We are a tailor-made creator of jewellery, designer and independent manufacturer. So what does all that exactly mean? Well it means we master our products with all the passion and pride of being 100% handcrafted by us truly. It means the care we take in making everything by hand, with all its sweet imperfections, it means that every piece of jewellery is unique and made with quality materials, it means we do all of the above with the respect of our employees and our customers. In short everything that we deem important and hold dear to us. It's worlds apart from the vacuum-packed, codes and microwaves, to produce our good grub. We do have our secrets but above all we remain true and sincere to ourselves. We're making the jewellery we are passionate about; jewellery that will win over your ears from the heart.
Just give us time to simmer our famous handmade recipe. So here is the opening of the grand ball, which is the making of our sublime tailor-made jewellery. All our rings, bracelets, earrings and necklaces are scrutinised to the last detail by the team. It is necessary to control the quality, to quote, to list the hundreds of components and selected materials which make up our jewellery, chains, rings, pompoms, pearls, stones, rhinestones, leather, wood, fabrics, hooks, nails, tubes, clasps, fasteners... Phew, the calculator has just exploded; we can get things going now!
So heat the foundry, steal the pliers, torches, chains, beads, charms, coils and sequins and let's go create and make in our workshop where you'll see a mix of high technology, high expectations and know-how. At the furnaces our jewellery craft makers all have talent, trained by and for Taratata, they each have their own speciality and a lot of patience, tonnes of patience. It takes years to refine their know-how, all those countless hours of work, making, undoing, remaking and starting again to become aces of metal, silver and gold plating, painting, collage, assembly, welding and just perfectionist of jewellery and like everything that's beautiful.  Coming through! The jewels are ready. It's the final hurdle! Our fairy-fingered couzettes have finished making the pretty printed and custom-designed cotton pouches. Send down the fire!